News
6 January 2016

Jazz Exclusive Interview

Hi Jazz, How are you? Thank you for speaking with us at MarkMeets!
Hi. It's been a bit of a manic morning [laughs] with Jetlag and having travelled back home and stuff. Otherwise, well thank you.

Firstly, Congratulations on winning two Gold medals for both, 400 & 800m, at the European Championships.
Aw, thank you.

How does it feel to win a new personal best for Great Britain?
For me short course has never been my strongest, I much prefer long course like in a 50 metre pool. So, it was quite unexpected really. I'm very happy to finish the year on a high though, and, looking forward getting stuck into 2016 now!

What challenges did you have to face during your journey to success?
Obviously with sport nothing is ever guranteed. That's why people have watched it because someone who's expected to do well might not always do well. It's been a tough journey, I mean, missing out on London [2012 Olympics] was really hard obviously two years ago. But, I'm definitely feeling a lot stronger, and, a lot more positive going into 2016.

It's just about making sure that I do everything up until then to be ready for the Olympics trials in April.

Do you have any plans on joining Rio's 2016 Olympics? Also, if you don't mind me asking: What happened with London Olympics 2012?
"I will be joining the Rio 2016 Olympics. With London, It was a lot different a few years ago. I was in a lot of different positions. But yeah, definately feeling a lot healthier in myself and going well. I think, that's the key journey into an Olympic year: you want to know that your body's in a good shape and ready to race.

How have you been preparing yourself for the Rio Olympics?
The Olympic trials are in April, so I'll just be working hard and training. I'm going to Australia in January for seven weeks on a training camp. There'll be six of us going from Bath. It'll mean I get the chance to escape the British winter a little bit [laughs] and get some sunshine. We'll do the final block of training going into the Olympic trials and then hopefully I can book myself on the team then. Really looking forward to it.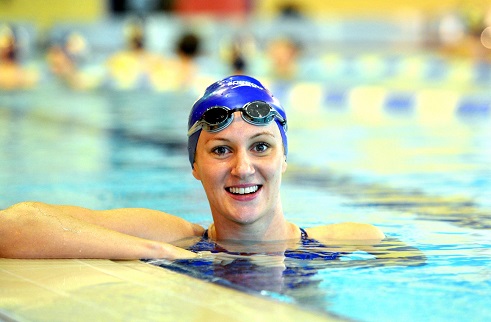 Let's rewind time a little to your childhood. Did your childhood coach nickname you 'Pitball'? It's a very interesting choice. Why this name?
Laughs. Yes. My old coach called me that. I think it was because I would get my teeth into something and never let go. Reflecting it on my competitve nature. He meant it in quite a nice way, but it's a very funny nick name.
Have you stayed in contact with your childhood coach?
Last I remember he said he moved to Australia.
Do you think you'll meet him on your trip to Australia?
Laughs. "Maybe, I'll pop in to say hi.
Lastly, many young women are influenced by you and would love to follow your footsteps. What advice can you give to them on 'becoming prepared'?
I'd say: put yourself forward and train as hard as you can". [Carlin went on to add] "Not to be afraid of doing something different. At school is quite hard because your friends wanted to do other things. It's about balance really. If you've got dreams don't get afraid to let anyone get in the way and don't be afraid to go for it. I mean when I was at school I used to turn up in the morning with wet hair and smelling of chlorine and it wasn't one of those glamourous lifestyles. But, I loved it and now I get to travel the world and meet lots of new people and it definitely worth it at that age. Just go for it. Keep working hard until you can achieve it."
Jazz Carlin, it has been a pleasure. Thank you so much for taking the time to talk with me. Wishing you all the best within the near future.
My pleasure.
Source: http://markmeets.com/celeb-interviews/jazz-carlin-exclusive-interview/